Waterslides and Aquatic Play Units Undergo Commissioning & Training in Colorado
Posted: May 22, 2018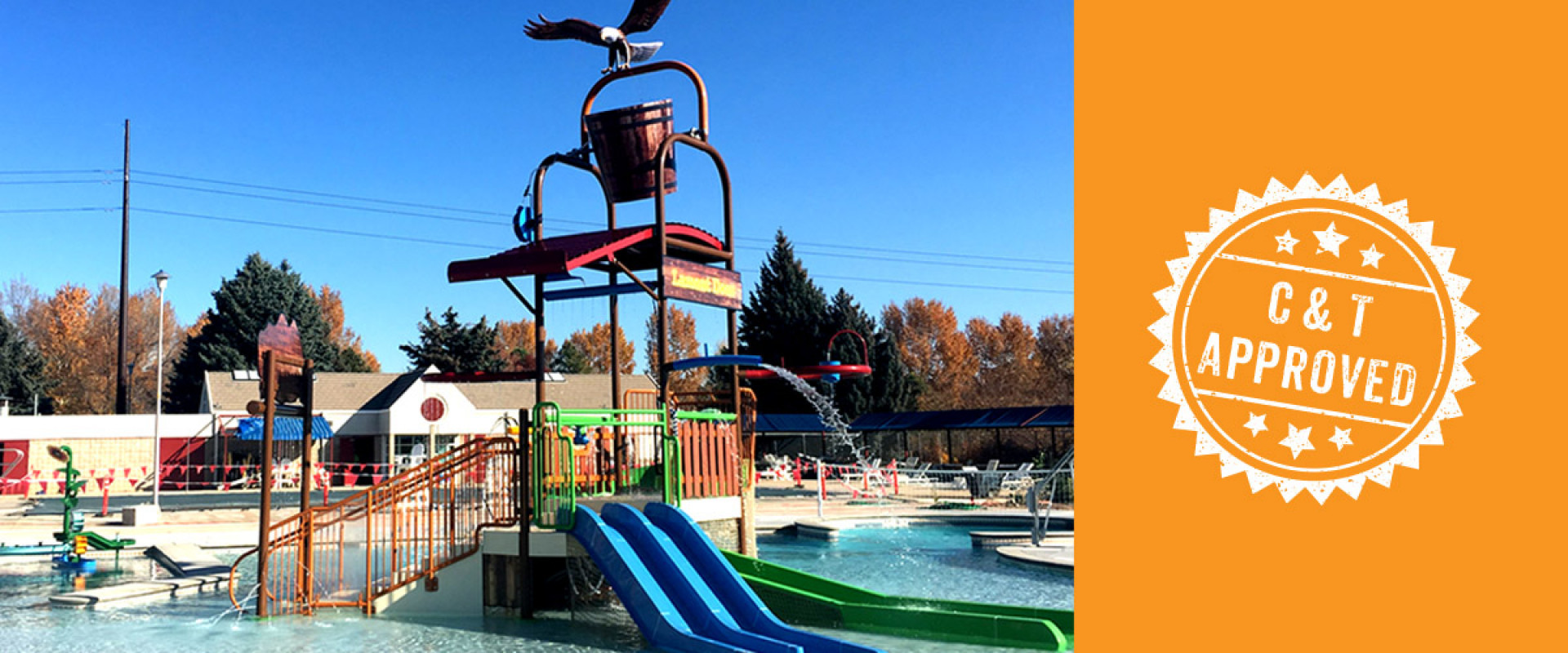 Approximately 80 percent of Splashtacular's® commissioning and training (C&T) occurs between the months of February and May, translating to approximately 40 C&Ts in a four-month timeframe. Considering all the people that need to come together and the construction schedules that have to stay on track, we often have short notice to get onsite. But we get there because C&T is essential to guest safety and product quality.
Such was the case in early April for two waterparks in Lafayette and Commerce City, Colorado. For the city of Lafayette, we designed, manufactured and installed an aquatic play unit, ground features and two waterslides with a 21-foot high steel tower in LaMont Does Park. New for the 2018 season, these are two body slides with plenty of twists and turns before guests splash into open run outs. The aquatic play unit features a grand eight-foot eagle perched atop a bucket that spills water every few minutes to the delight of the little ones playing underneath. This play unit also has 2 playful otters perched on the rails and plenty of interactivity including 15 spray features and 2 kiddie slides. There is also a water trough garden and 6 additional spray features on the pool floor.
At the Bison Ridge Recreation Center in Commerce City, we designed, manufactured and installed an enclosed body slide that started from a concrete tower. Not only does the waterslide exit and re-enter the recreation center, but also features a juke box system that has 160 songs and touchscreen operation. Two thousand watts of sound and LED lights synchronized to the music make this waterslide over-the-top fun. We know that because it was fun commissioning it even in 45-degree water temperature.
"Everyone in the company performs C&T sessions. It's important for us to get away from our computers and see the results of our work. C&T helps us remember what we do and why," says Kodi Theilgaard, Splashtacular's vice president of design.
The LaMont Does Park's aquatic play unit required tuning to ensure spray features were set correctly to avoid overspray and ensure they were providing the maximum amount of enjoyment. Each feature has its own valve that can be adjusted, a unique system that most play units do not offer
Kodi lost track of how many times he rode the waterslide at Bison Ridge Recreation Center, despite the 45-degree water. No wet suits are allowed because the slide must be ridden as guests will ride it – in swimwear.
"Of course, it's a fun waterslide, plus we had the juke box going, so we listened to a lot of Led Zeppelin. We do a dry walk of the waterslide bottom to top wearing headlamps while holding cameras and clipboards to note any minor adjustments needed prior to opening day. Then we ride it to put it to the test. We try to break it so that we are sure the slide is as safe as possible," explains Kodi.
During the training component at both waterparks, we worked with the management teams to create a plan for operation and maintenance. Lifeguards and staff were trained on the waterslides and aquatic play unit's safety protocols. Splashtacular's C&T in Lafayette and Commerce City, Colorado ended with signed certification letters verifying that the equipment passed our stringent evaluation and is safe for the public on opening day.