450st
79'x46' [24 m x 14 m]
Get ready to take on the competition with our latest signature attraction, Lane Chasers®! This thrilling multi-lane raft slide is designed to pit riders against each other in a race to the finish. With different start times, you'll be able to keep an eye on your opponents as you make your way down the slide, adding a whole new level of excitement to your ride. But that's not all - our state-of-the-art timing system accurately tracks your ride time, giving you the ultimate bragging rights until your next ride.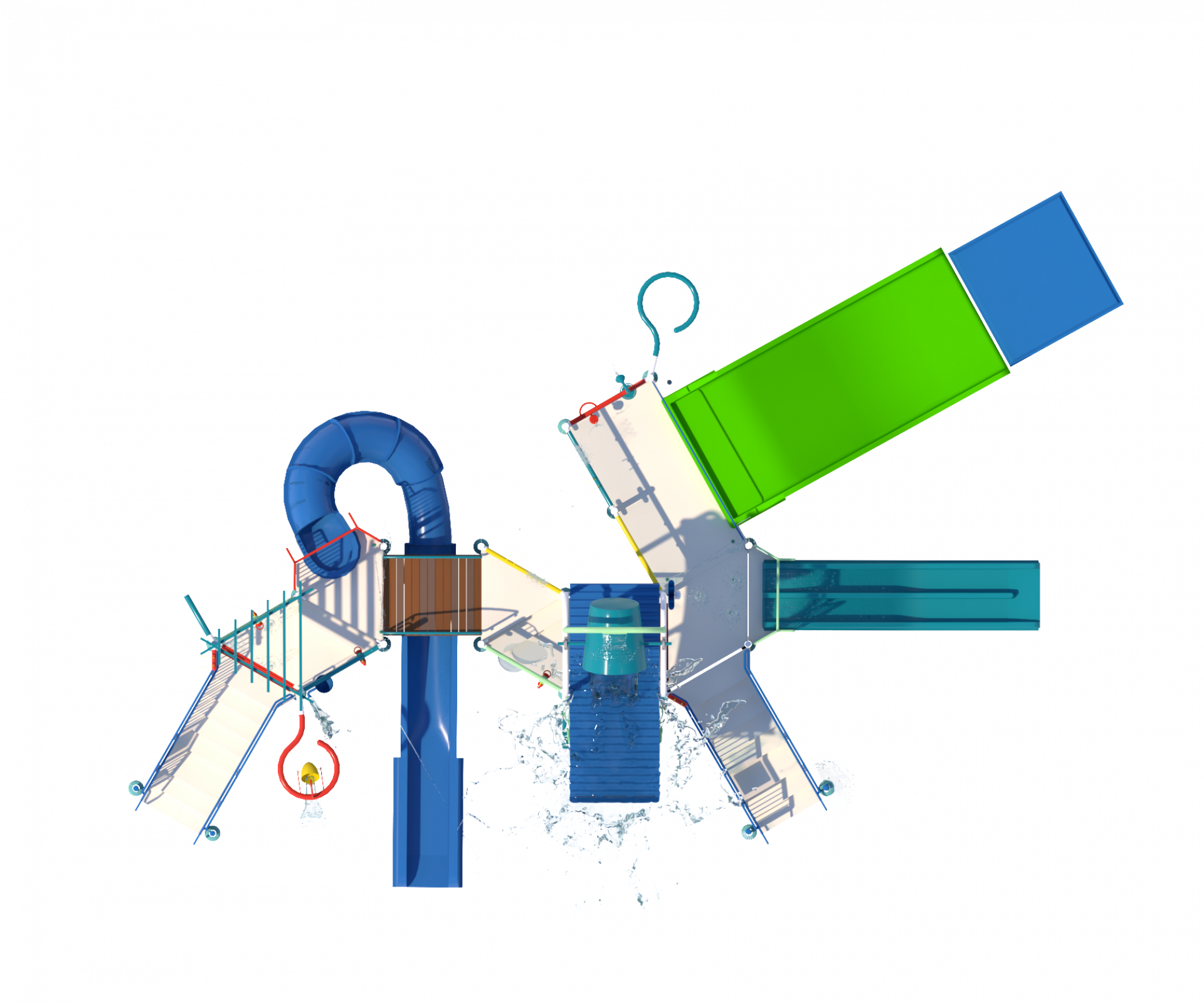 Splashtacular is a thrilling and immersive waterpark for all ages. Our safe and exciting rides are powered by the latest technology, and there's room for everyone to have fun.
But don't take our word for it - experience Lane Chasers® for yourself and see why it's quickly becoming a fan favorite.
Let the race begin!
Highlights
Deck Area: 282 Sq Ft
Dimensions: W 71.0' L 35.0′ H 24.1'
Suggested Pool: 79′ x 46′
Total Features: 38
Water Requirements: 1,530 GPM
Our play units are made entirely from stainless steel parts. In contrast, competitors' stainless is limited only to the first foot of the chassis. Meaning most of their unit is submerged in the water. Our products are built with corrosion resistance in mind, are easier to maintain, and have reduced maintenance costs.
Play Units needed a new, clean, and elegant look, so those unsightly, industrial-like flange connections had to go. We replaced them with smooth lines and flangeless pipe connections for far fewer catch points and way more appeal.
ADA standards compliance is critical. Our play units are accessible to virtually everyone. We've eliminated the unsightly tarps and nets at ADA access points and include ADA handrails and grab bars, rarely found on other play units.
Notice the scarcity of play features on other play units? Sure, the structure may have a large impact presence, but there aren't enough features to go around. Our play units have double the amount of spray features per rail for more fun and longer play time.
One of our play units best benefits is the individually plumbed spray features. Water lines individually feed each feature, so you can tune each one to its intended water flow. These are easier to winterize and provides a better guest experience.
With 188 different colors, you're sure to find a scheme that fits with your current theme and stands out from other parks. Mix and match the inside, outside and alternate sections on waterslides with translucent bands and sections.