Double BowlsEye™
Double BowlsEye water slide is an interactive slide experience that touches all senses. From the towering 60-foot tall launch platform, riders gaze into two 54-inch enclosed slides entering opposite sides of an enormous bowl. The group of 4 riders is separated into (2) two-person rafts, which are positioned back to back on custom controlled launch platforms.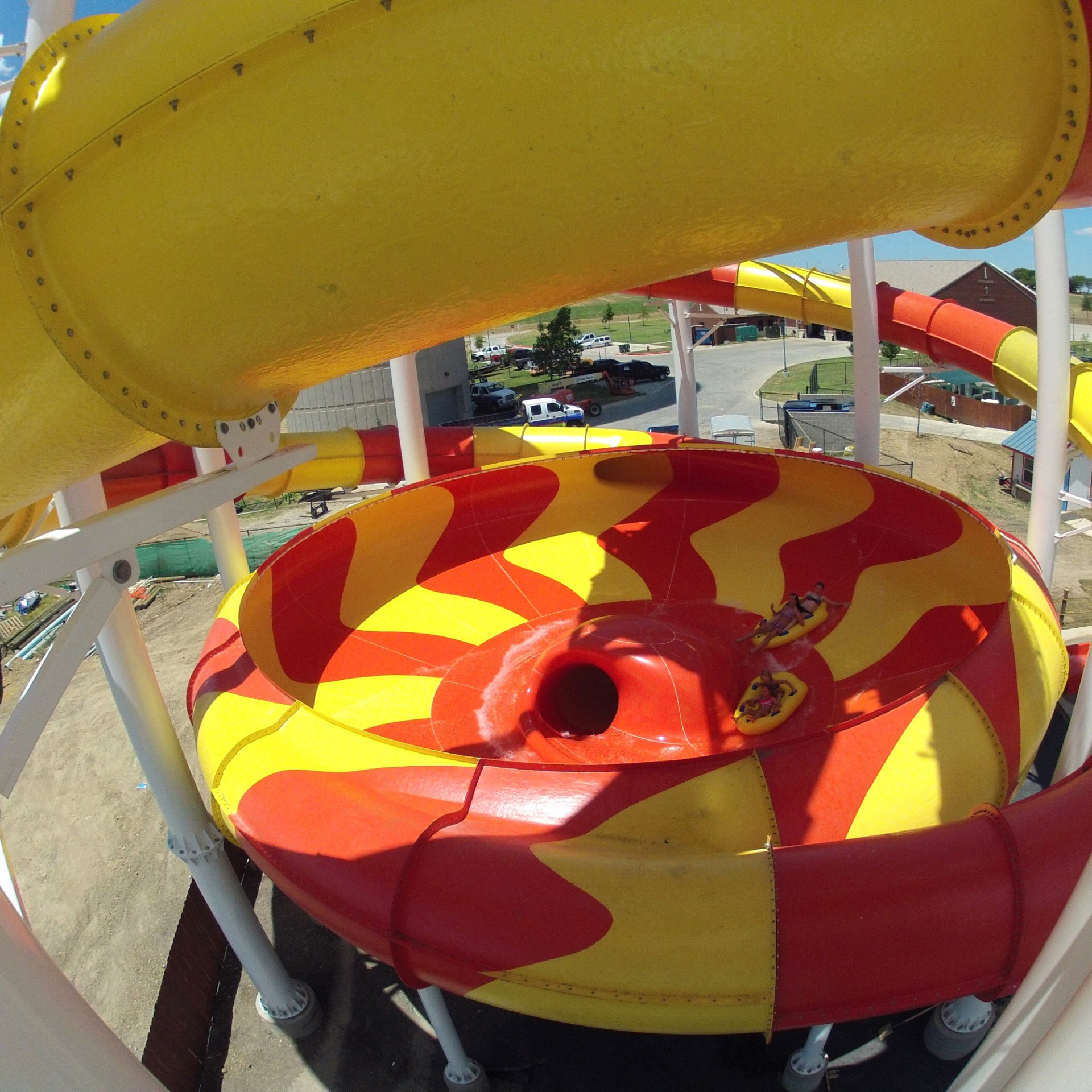 Once riders are properly seated, they are simultaneously propelled in opposite directions and disappear into darkness. Within seconds, daylight appears as they enter the massive bowl before realizing they are not alone, but are instead being chased by the riders in the other raft! Each respective raft then terminates through a porthole into a finish lane only to challenge the competition to a rematch.
Highlights
Heigh: 59′ 6″
Footprint: 85′ x 105′
4 riders at a time (2 per entry)
Required rafts are hand carried
No pool required
US Patent No. 8, 579, 715, B12
CAN Patent No. 2, 739, 507
Our protective coating, KEEP IT SHINY, dramatically extends our products' original color and gloss by years so they will look just as glossy and colorful as they did when they were installed.
Proprietary tread keeps stair surfaces dry via T-grating style step with sealed lower cavity. Risers have 1" relief and each tread riser nests into the adjoining one for perfect alignment. A non-skid tread surface grips wet feet. IBC compliant with sloped and closed risers.
Nothing on the market met our picky demands, so we developed our own proprietary design software, Splashworx. Design tweaks and changes take seconds, not hours. That's more time for amazing designs, versatility and collaboration.
Finite ride path analysis predicts what was once unpredictable by examining riders' weights and eliminating guesswork for the smoothest, fastest ride possible.
With 188 different colors, you're sure to find a scheme that fits with your current theme and stands out from other parks. Mix and match the inside, outside and alternate sections on waterslides with translucent bands and sections.